Rabbi Chananya Kramer – Menahel & 9th Grade Rebbe
Rabbi Chananya Kramer, FTI's Mesivta Menahel, joined FTI after serving as a rebbe at Yeshiva Chofetz Chaim in Queens from 2008-2015. Rabbi Kramer completed an intensive chinuch
training course at Mayan Hachinuch under the direction of Rabbi Mechel Rotenberg in 2010. Additionally, he participated in "The Legacy Project" chinuch teacher training seminar program in 2014, which was a joint program of "Ohel - School-Based Trauma Services" and Rabbinical Seminary of America, under the direction of Rabbi Dr. Hillel Fox and Rabbi Hillel Mandel. The seminar focused primarily on the emotional needs and emotional health of each student in
the classroom.
Rabbi Kramer saw an incredible opportunity to help bring FTI – already a fast-growing yeshiva – to a whole new level, and turn it into a premier yeshiva serving hundreds of boys, producing real B'nei Torah and Balaei Middos, while positively impacting the Cherry Hill community at large.
Rabbi Kramer lives in Cherry Hill with his wife Hindy (nee Luban) and their children.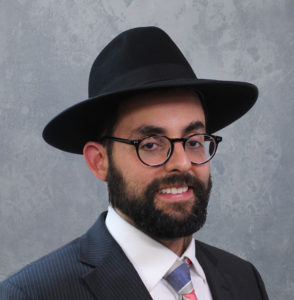 Rabbi Chaim Juni – Rosh HaYeshiva & Rosh Mesivta
Rabbi Chaim Juni completed his post secondary studies at the Rabbinical Seminary of America, Yeshivas Chofetz Chaim in Queens, where he was ordained as Rabbi in 2009. Rabbi Juni completed the Principal's Training Initiative in conjunction with the Consortium of Jewish Day schools.
He has a wealth of teaching experience on the high school level, among them, Mesivta Chofetz Chaim in Queens, Yeshiva Kesser Yisroel of Willowbrook, and the Talmudical Institute of Upstate New York. Rabbi Juni recalls how Rabbi Bentzion Shafier, one of his high school rebbeim, inspired him with his insistence that true happiness can be attained only through Torah learning. This encouraged Rabbi Juni to make a career out of Harbotzas HaTorah, spreading Torah.
Rabbi Juni's intuitive understanding of his students allows him to go beyond the teacher's role. Rabbi Juni joined the Foxman Torah Institute in 2010 and is the Rosh Mesivta and Bais Medrash Mashgiach.
Rabbi Juni lives in Cherry Hill
with his wife Zippy (nee Davidowitz) and their children.
Rabbi Yisrael Davidowitz – Rosh Yeshiva & Head of School
Rabbi Yisrael Davidowitz grew up in Rochester, New York, where his father founded and is currently the Rosh Hayeshiva of a Chofetz Chaim Yeshiva High School, Beis Medrash and Kollel. He studied there until he married, then moved to Queens to join the Chofetz Chaim Kollel and advance his studies.
Rabbi Davidowitz thoroughly enjoys teaching Torah and, over the years, has taught at many levels, including yeshiva high school and Beis Medrash boys, baal habatim, and kiruv rechokim. He founded the Brooklyn Branch of TBT and The Shmuz in 2005.
After receiving Semicha in 2008, he focused his efforts on nonprofit alternative fundraising models to benefit yeshivos. As rosh yeshiva at FTI he puts his skills to work, as well as doing what he loves most: teaching Torah and helping people come closer to Hashem. Rabbi Davidowitz lives in Cherry Hill with his wife Yael (nee Rosin) and their family.
Rabbi Shimon Max – Rosh HaYeshiva & Rosh Bais Medrash
Rabbi Shimon Max has a wealth of chinuch experience including serving as Rosh HaYeshiva and rebbe for close to two decades. Rabbi Max's charisma and warmth has enlightened many over the years, and he continues to inspire his students today to the beauty and depth of Torah.
Rabbi Max has taught advanced high school and Beis Medrash gemara shiurim, both in our parent Yeshiva, Yeshiva Chofetz Chaim of Queens, and in Foxman Torah Institute to virtually every grade and level. He is the head of the Stein Bais Medrash program for FTI and gives shiur in the Bais Medrash and in the Mesivta.
Over the years, countless students have enjoyed the hospitality and care of the Max family as well as the delicious cooking of his Rebbitzen. Rabbi Max lives in Cherry Hill with his wife Deena (nee Kamin) and their children.
Rabbi Yisroel Meir Hoffman – General Studies Principal & Chumash Rebbe
Rabbi Yisroel Meir Hoffman received his Master's Degree in Education from Loyola University in Chicago, with a specialization in Education Administration and Supervision. He received Jewish Day School/ Yeshiva Principal Certification from the Jewish Education Leadership Institute in 2011.
In his previous roles, Rabbi Hoffman developed curricula for both secular and Jewish studies. Rabbi Hoffman's wide range of experiences include teaching at all levels, adults, high school, junior high, and primary. Rabbi Hoffman is both a third-generation student of the Rabbinical Seminary of America and a fourth-generation educator. His great-grandfather received an award in Teaching Excellence from President Lyndon Johnson.
Rabbi Aaron Juni - Gemara, Halacha, & Chumash Rebbe
Rabbi Aaron Juni, son of the famed Rabbi Menachem Juni, Rosh Yeshiva of Yeshivas Keter Torah in Mexico City, and cousin of FTI's Rabbi Chaim Juni, teaches a multitude of shiurim at the Yeshiva. Rabbi Juni completed his formal learning under R' Avrohom Yehoshua Soloveitchik in Yeshivas Brisk of Eretz Yisrael and then in Bais Medrash Govoha in Lakewood.
With his fiery personality and penetrating analysis, Rabbi Juni adds a tremendous charge of excitement and energy to our program. Rabbi Juni lives in Lakewood with his wife Taibe (nee stoll) and their children.
Rabbi Yitchak Shmidman – Boarding Student Mashgiach & Behelfer
Rabbi Yitzchok Shmidman, our Boarding Student Mashgiach and behelfer, is a graduate of Yeshiva Chofetz Chaim in Queens. Most recently, he was a rebbe in Yeshivas Yam Hatorah and Yeshivas Zichron Aryeh teaching gemara and mussar.
Rabbi Shmidman is a highly skilled mentor and has much experience helping boys balance school, family, social, and yiddishkeit obligations in a healthy and productive way. In fact, he has been mentoring boys for 10 years already, despite his relative young age, both as a volunteer and in official capacities. Rabbi Shmidman lives in Cherry Hill with his wife Hindy (nee Max) and their children.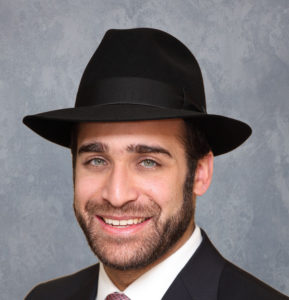 Rabbi Moshe Strassfeld – Gemara, Halacha & Chumash Rebbe
Rabbi Moshe Strassfeld joined our staff in 2018, after spending many years immersed in Torah study as a member of the Kollel in Yeshiva Chofetz Chaim in Queens, NY. During his decade of study in Queens, Rabbi Strassfeld had the opportunity to become a close talmid of the Roshei HaYeshiva, HaRav Dovid Harris shlit"a and HaRav Akiva Grunblatt shlit"a, as well as many other Rebbeim in the yeshiva's leadership. In particular, Rabbi Strassfeld served as secretary to Rabbi Mordecai Tropper zt"l, legendary mashgiach of the Yeshiva, where he was afforded an insider's view into his wisdom and his devotion to the talmidei hayeshiva.
Rabbi Strassfeld is particularly excited to join FTI because of his deep esteem for the rebbeim and the FTI environment. He believes deeply in FTI's mission of creating an atmosphere where talmidim can grow into bnei torah of the highest caliber, while working with each individual talmid on his level. Since joining FTI, He has been inspired by the selfless mesiras nefesh, love and personal responsibility that the rebbeim feel toward the talmidim. Rabbi Strassfeld currently resides in Cherry Hill with his wife, Sara (nee Halpern), and their family.
Rabbi Ari Baum – Gemara, Halacha, & Chumash Rebbe
Rabbi Ari Baum has taught on a wide range of levels, including Gemara and Chumash classes in Mesivta Chofetz Chaim in Queens, community shiurim to baal habatim at multiple shuls, text-based study with college students at Stony Brook University, and one-on-one study with boys and men from young to old. He has a rare ability to connect with and respond to each talmid's unique academic needs while helping the talmid recognize his own strength and potential. Rabbi Baum completed his years of full-time study at Yeshiva Chofetz Chaim in Queens, and was ordained with semicha in 2015. He received educational training and tutelage from Rabbi Hillel Mandel through the National Torah Initiative's Chinuch Training Program, and completed an Educational Training Course of teaching consultant Rabbi Elimelech Gottlieb. Additionally, he holds a B.S. in Psychology from Excelsior College. Rabbi Baum lives in Cherry Hill with his wife Yocheved (nee Halpern) and their children.
Rabbi Hirsch Hollander – Dorm Mashgiach & Bais Medrash Behelfer
Rabbi Hirsch Hollander, FTI's new dorm Mashgiach, comes to FTi after teaching kodesh
subjects in Ottawa Torah Institute, the local yeshiva high school. Rabbi Hirsch Hollander is a graduate of Rabbinical Seminary of America in Queens NY, where he was ordained with Semicha in 2016. Rabbi Hollander has taught teens and adults in many settings including teaching at Mayan Hatorah, a Chofetz Chaim affiliate in Kew Gardens.
He loves FTI specifically because of its warmth and its focus on each student's needs. He is excited about helping the students become bnei torah and internalize a love of Judaism. Rabbi Hollander grew up in San Diego, CA, where both of his parents still teach in the day school. He grew up in a house of chinuch and has always been involved with teaching. Rabbi Hollander lives in Cherry Hill with his wife and their children.